As Cape Cod kitchen remodelers, we're always on the prowl for online trend reports. We also get to see firsthand what our clients are looking for when deciding on their own kitchen projects. Kitchen design trends come and go (though less so than in other rooms), yet many aspects of kitchen remodeling remain unchanged from year to year. Not surprisingly, COVID-19 is also playing a role in Cape Cod kitchen renovating.
What's Still True?
Kitchens matter… a lot. Over the course of the last few decades, the kitchen morphed from a small space tucked away out of sight to the room where families gather and people entertain. Because it is sees such frequent use, it is the single room people are most willing to invest time and money in renovating, a fact that plays out among our clients.
With many people no longer needing to travel into an urban office every day, the wide-open appeal of Cape Cod has created a red-hot real estate market. If you've just purchased a home here, or are about to, remodeling the kitchen is likely at the top of your to-do list.
While the last year of virtual learning and working from home has led many families to look for ways to carve out private spaces, the kitchen is still the heart of the household. Because they spend so much time there, our clients frequently request more open floorplans when renovating their kitchens. If there is a little-used space adjacent to a kitchen, such as a formal dining room, this is surprisingly doable.
As far as design choices, two things remain unwaveringly popular: opening up the kitchen and white cabinetry.
Because cabinetry is the priciest item in virtually any kitchen renovation, people tend to be wary of choosing a bold finish that they may soon tire of, or may negatively impact resale value. This is true across the country and of our Cape Cod kitchen remodels.
A center island with seating is another item that is showing no signs of slowing down in what our clients consider must-haves. When scale is considered in its design, an island is almost always doable.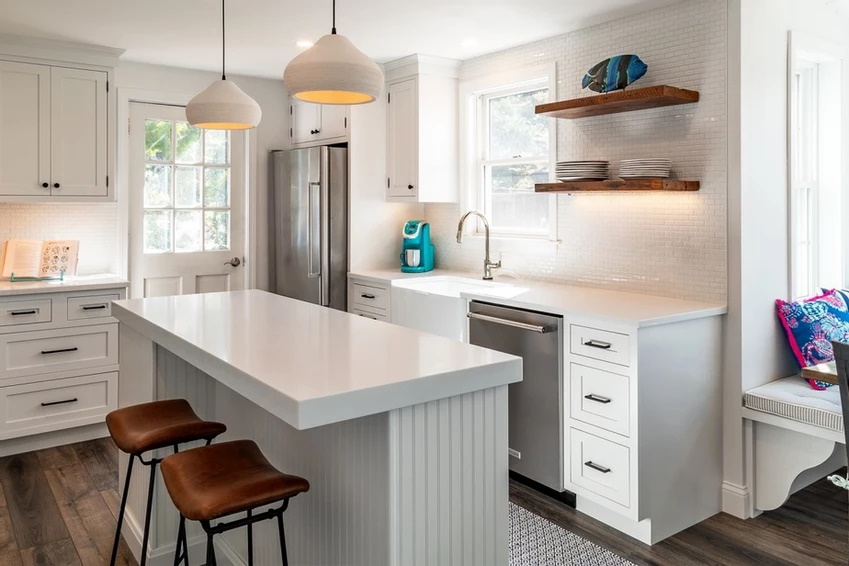 What's New?
As we said, white cabinetry still reigns supreme. White on white – white cabinets paired with white counters – remains popular, but more and more, people are looking for ways to add color to their kitchens and infuse them with pops of personality.
The all-important center island is often where our clients look to introduce color.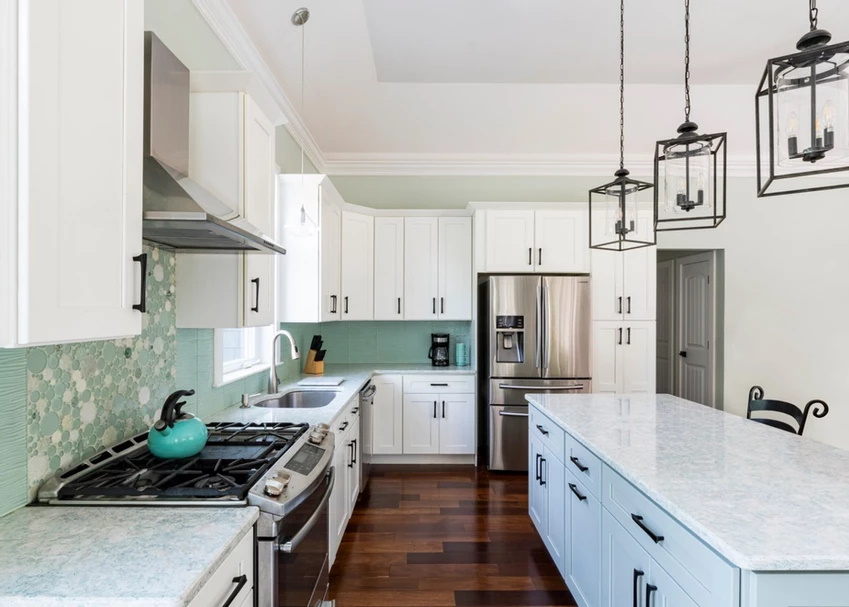 The tile you choose for your backsplash is another fun way to play with color.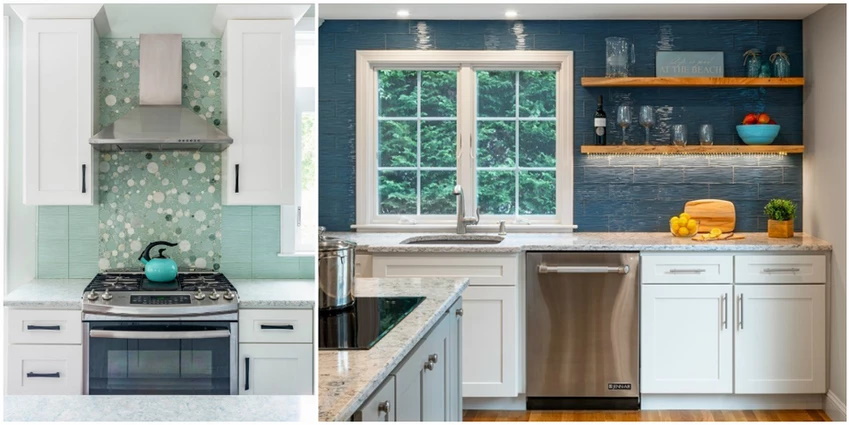 And finally, much like everything else these days, there's the "COVID factor."
As people spent nearly all of their time at home over the past year, home improvement projects that were considered a "someday" need became "need it right now." Understandably, professionals working within the Cape Cod home improvement sector are busy. We have also found continued disruptions in the supply chain, for some building materials as well as appliances.
Remodeling your kitchen can be disruptive, especially if it's in your primary residence. As you begin to plan your renovation, communicate with your builder to establish a realistic timeframe for completion, and order products as soon as possible. If time is of the essence, try to be somewhat flexible. If a range you fell in love with has a six-month lead time, ask your appliance salesperson if a similar range is more readily available. Try to have everything needed for your kitchen renovation delivered, or well down the production pipeline, before your contractor begins work. This will ensure a smooth and efficient process with the best possible outcome: your dream kitchen.
Please contact us if you'd like more information.