High demand and disruptions in the supply chain continue to prove challenging for homeowners, and homebuilding and remodeling professionals.
As we mentioned in a previous blog post, the pandemic created a surge in home remodeling projects as people spent far more time in their homes. If you're contemplating a renovation, or building a new home, chances are you have come to realize that today's material prices and availability have become key factors in developing and analyzing a potential project budget. For Cape Cod builders, the last year has emphasized the need to be creative with solving today's challenges, and placed a larger focus on the perceived value being offered to each client.
We all are experiencing a sense of sticker shock and frustration with the delays in acquiring the products we need. With COVID-related restrictions being eased on both state and federal levels, it's natural to assume that everything will be returning to normal in due time. Fortunately, or unfortunately, the demand still outweighs the supply and the industry's ability to meet those obligations, and likely will for the months to come.
What's gone up in price, and why?
Lumber, hardware, PVC, windows, steel, insulation, and drywall are just a few of the products used in building and remodeling that have seen significant increases in prices in the last year. Below is an infographic from a newsletter we recently received from Mid-Cape Home Centers, which highlights some industry factors that have been playing a part in the pricing and delays we all are experiencing, whether you're a contractor or consumer.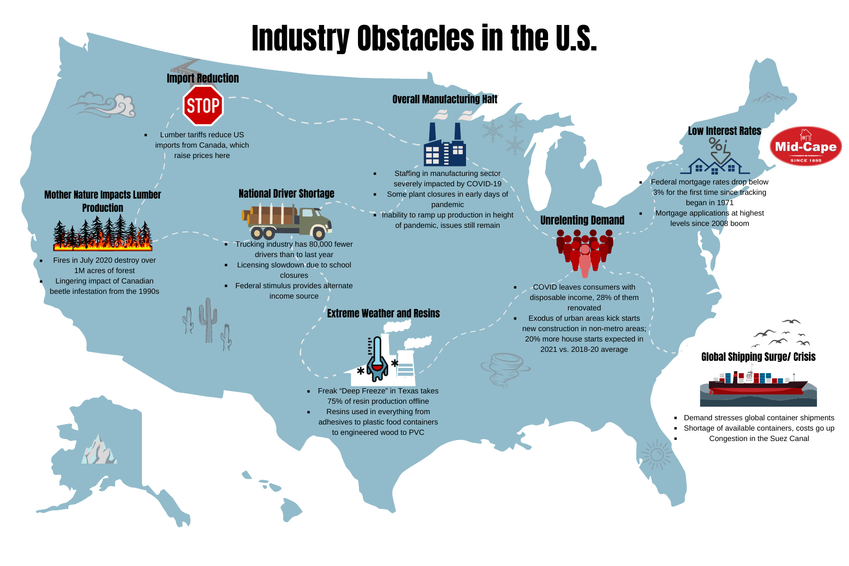 nfographic via Mid-Cape Home Centers.
As the infographic illustrates, the pandemic is the culprit – both directly and indirectly – in the price increase of many materials, but other factors are in play. Increased tariffs on lumber coming in from Canada have impacted prices, as have the 2020 forest fires in California. The deep freeze in Texas earlier this year is impacting the price of products made with resin, such as PVC. In addition to general cost increases, supply chain delays have impacted the most valuable factor: time.
And then there's the demand factor.
Historically low mortgage interest rates and increased demand from home-bound families have created an unprecedented increase in homebuilding and remodeling. According to the U.S. Census Bureau, new home construction permits issued in April were up more than 60% compared to April of the previous year.
Why is everything taking so long?
Labor shortages have been key in manufacturing sector delays, a result of the pandemic. These labor shortages are being felt everywhere, not just within the homebuilding industry. A shortage of truck drivers, due in part to the pandemic, is another factor that has affected material logistics here on the Cape.
What can homeowners and their contractors do to ease frustrations?
Patience and communication are key when developing and executing the schedule. Having realistic expectations and the ability to be flexible, for example when certain items or materials are not available, will help to maintain the project chemistry. Work with your builder in establishing a realistic timeline for your project, and keep the lines of communication wide open throughout the process. Try to understand that, even with the best planning, some issues simply cannot be foreseen.
As you begin to choose the products needed for your project, ask suppliers about anticipated lead times for delivery and be aware that unexpected issues may crop up.
And finally, try to be flexible with your product choices. If you have your heart set on a certain range, but the lead time on it is especially long, think about alternate options. Choosing an alternate option based on availability will help finalize your new kitchen. At the same time, it's important to remember that your kitchen renovation will last for decades. That 36" Wolf range you've been dreaming of? Go ahead and put in the order, even if it won't arrive until next Christmas.
Please feel free to contact us with any questions or for more information.